SANTA PHOTOS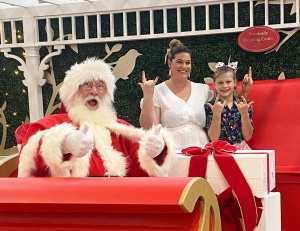 WANT TO MEET SANTA?
Brookside is excited to welcome back Santa. Now is your opportunity to secure your place and capture that special moment with the jolly man in red.
Santa photos are available everyday from Thursday 25 November up until Christmas Eve.
View the variety of photo packages available, starting from just $15. Bookings are ONLINE ONLY and we strongly encourage you to secure your place as early as possible so you don't miss out.
For more information about your Santa photo experience at Brookside, including our COVID-safe practices please visit our FAQ's.
BOOK A SANTA PHOTOGRAPHY SESSION
UPDATE (2/12) 2pm : Both our Santa and Sensory Santa sessions are fully booked. Please continue to monitor the website for cancellations.
GENERA/L BOOKINGS
https://square.site/book/LWBCBR91QNP43/brookside-santa-photos-mitchelton-qld

SENSORY SANTA
Brookside is again proud to offer our Sensory Santa sessions. This provides a safe and friendly opportunity for children with sensory needs to meet Santa in a low stress and quiet environment (Saturday and Sunday only).
Find out more or to book Sensory Santa >
SANTA PHOTO TIMES:
Thursday 25 November – Sunday 28 November
Thu: 7pm – 9pm
Fri: 10am – 2pm
Sat – Sun^: 9am – 5pm
Mon 29 Nov – Sun 5 Dec
Mon 7 Dec – Sun 12 Dec
Mon – Fri: 10am -2pm
Sat – Sun^: 9am – 5pm
Mon 13 Dec – Sun 19 Dec
Mon – Fri*: 9am – 4pm
Sat – Sun^: 9am- 5pm
Mon 20 Dec – Fri 24 Dec
^ Sensory Santa times are 9am to 10am each Saturday and Sunday.
* Includes a break between 12.30pm and 1.30pm